Visited: July 7, 2019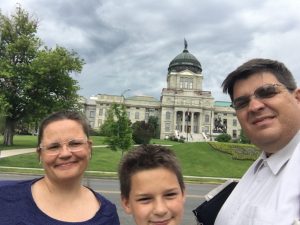 Louisiana and Montana are very far apart from each other but most of what is today Montana became part of the United States in 1803 as part of the Louisiana Purchase. The point is there is a lot of space up in that part of the land. As soon as you cross from Idaho you see this almost immediately. The land is out there but it is very wide and very open. For the first three hundred miles we were in Montana I am pretty sure we saw more horses than humans.
They call Helena a city, it is a Capitol, but at a population of 36,000 it really felt more like a town. I remember pulling up to motel and Denise telling me were were on the edge of town but when I looked up I could see that capitol was only about 6 blocks away. Needless to say there was not much in the city. Besides the capitol building there were several casinos and a few supermarkets. Not many chain restaurants that I could tell, which was funny because when you go into the supermarket there are these kiosks at the registers with all of these chain restaurants which the closest was 200 miles away. Not that gift cards were ever great gifts to begin with but is someone going to really drive 200 miles to use their gift card?
It was July but the weather was little cold, in fact it rained a little bit with hail while we were there. It was a bit of a problem because we didn't have any winter clothing but we had some old sweatshirts in the trunk so that was good enough.
We enjoyed our time walking around the state capitol. The layout of the building was a little bit different in that the Senate and Assembly chambers were both on the same side but it had all the basic elements like a dome and fake marble painted columns. The best part of the building were the stain glassed windows, which were very intricate and colorful. Admittance was free and the tour was self guided.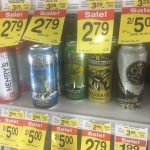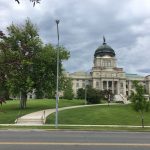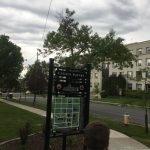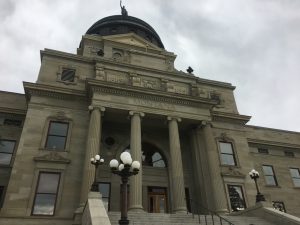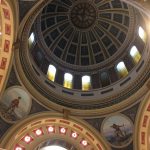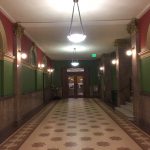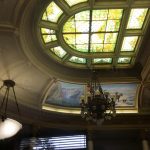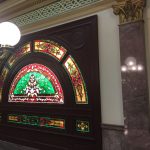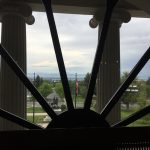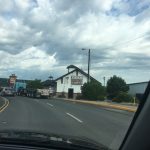 YouTube Video: