Visited: July 5, 2018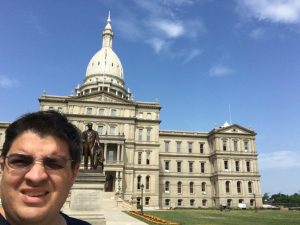 Austin Blair was known as the Civil War Governor and was a firm opponent to slavery.
Michigan got it's start on July 13th, 1787, when the Second Continental Congress created the Northwest Territory. Almost instantly there were lots of land disputes and in 1803 Ohio was formed and in 1805 Michigan became it's own territory. Michigan immediately wanted to become a state but the land disputes prevented it from the application.
During the war of 1812, Detroit, which was the territorial seat got occupied by British forces, but the militia fought back and soon regained the territory. After the war the idea of statehood intensified. In 1835 Michigan formed a state government in Detroit without Congressional approval. Part of the problem was land disputes with Michigan's neighbor Ohio. The land disputes came to a head when the two state militias took up arms against each other in what was known as the Toledo War. At the heart of the matter was the city of Toledo. Ohio won the fight, and as condition for entering the Union, Michigan was forced to cede Toledo, but did get a strip of and that was won in the war in 1812, and so Michigan became a state of two land masses.
Another concession given was that the capitol of Michigan had to move. Congress did not want the state capitol getting run over again by the British so they mandated that Michigan move their capitol to a safer location. Detroit of course protested but eventually relented and the first construction of a state capitol building began in 1847 in Lansing.
The current capitol building was built in 1872. It was a bit of a scandal because the architect, Elijah E. Myers was from Springfield, Illinois, and everyone thought that it must be a kickback having a out of state architect. The thing about it was that he actually built the building within budget and thinking of what happened to some buildings during the Civil War, it became one of the first fireproofed buildings in the nation by using fire resistant materials such as glass, steel, and stone.
Visited: July 5, 2018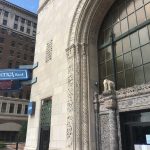 The Coamerica building is one of the oldest buildings in Lansing.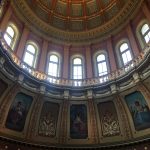 Up in the dome of the capitol.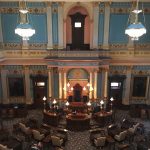 Senate chambers.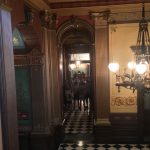 There are tours of the capitol or you can do what I did and do a self-guided tour.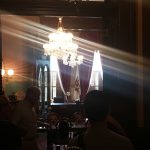 Govenor's ceremonial office.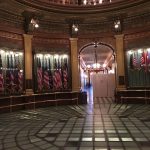 The battle flag room with a steel and glass floor.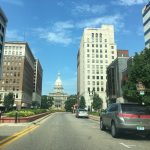 The view up to the capitol.