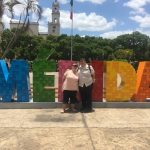 Merida, the capital of the Mexican state of Yucatan, is the largest of the three cities in the world that share the same name. The original Merida is in Spain and there is another Merida in the Philippines. The Mexican city was founded in 1542 by three Spanish soldiers named Francisco de Montejo, which conquered the existing Mayan village of T'ho. Considering that the area was populated for at least 2,000 years before the Spanish arrival some say that Merida is the oldest continually inhabited city in the Americas. The city was used as a hub for conquering the entire Yucatan peninsula and is still the economic hub for the region today.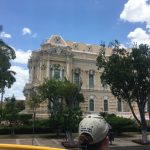 Besides it's initial founding Merida grew in riches due to the production of henniquin, a strong fiber that once used in ship sails. One Calle Montejo, the street named after then founders, you can see mansion after mansion. These were primarily built in the late 18th and 19th century, when Merida had grown rich. The mansions are covered with a white lime  based mortar which has given Merida the nickname of the "white city." At one point it had the most millionaires in the world. This stopped in the early 1900s when synthetic materials were discovered. Today Calle Montejo is a great place to see some of the restored mansions, which many are now restaurants.
Speaking of food the Yucatan peninsula has its own very unique cuisine.  Despite it's unique food I did notice two prolific foreign invaders: Burger King and Kentucky Fried Chicken. Considering we have both of those readily available at home we skipped them in Merida. The first day we were in Merida we went to a place called La Chaya Maya. Some locals told is that it was too touristy and that we should not go (they wanted us to go to their uncle's place), but we went anyway. We were glad that we went. The place was crowded but after only a five minute wait we got a seat. It was there that tried Chaya Juice, which is a drink made with a green leaf. Overall we found the local food to be varied and steeped in Mayan influence. Here are some of the things we tried:
Salbutes  – Soft fried tortillas topped with turkey, avocados, and beans.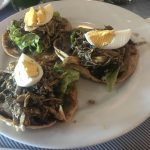 Panuchos – Like a soft mini tostada, where the tortilla is soft and filled with refried beans.
Papadazul – Mayan egg and cheese enchilladas topped with a pumpkin seed sauce.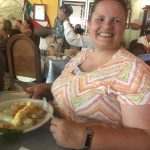 Sopa de Limon – Lime Soup, usually has a chicken broth with lime and onions. Often served with tortilla chips.
Rellengo Negro (also known as Chilmole) – Turkey or chicken stew cooked in black paste sauce.
Queso Relleno – Ground Pork inside of a edam cheese ball served in a tomatillo sauce.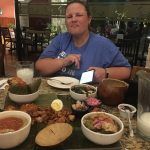 Poc Chuc – A Mayan version of boiled then grilled pork.
Breakfast was a very popular meal in Merida, more so than lunch, which is typically the biggest meal in the rest of Mexico. As such eggs and fresh fruit (which is considered dessert) was always available throughout the day.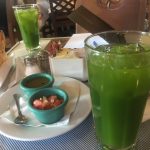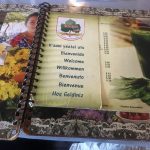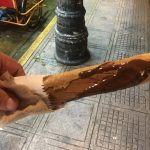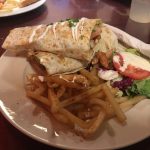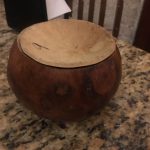 Eating a good breakfast in Merida is important because Merida is a good jumping off point for many adventures. Besides visiting Merida itself which has a very impressive plaza, many museums (the Mayan Museum is world class), and shopping areas. There is several places of cultural interest within a one or two hour drive. While we were there we visited two Pueblo Magicos (Izamal and Valladolid), as well as we visited a cenote (underground pool) called Xcajum, and three archeological sites (Uxmal, Chichen Itza, and Kinich Kak Moo).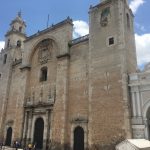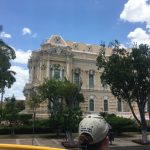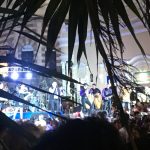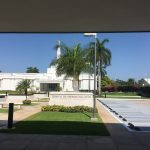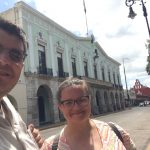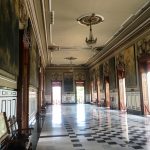 Getting there was easy. The airport is medium size and only about three miles from the downtown area. We like to travel from the Tijuana airport because the national airline rates are so much cheaper. Currently my favorite airline is Interjet (Volaris is cheaper but has less leg room). Taxis are cheap but we found Uber cheaper, although one thing you can do with a taxi easier than Uber is hire your own driver for the day. There is also public buses, but we didn't use them because we were only there for a few days and didn't have time to learn the schedules.
The hotel we stayed at was called the Hotel La Mision de Fray Diego. It was a very nice hotel, that used to be a convent. It had a beautiful mission decor with a little pool, nice bathroom, and a continental (fruit and bread) breakfast every day. The normal rate was $90 per night but we had a Groupon and paid $50 a night (pro tip: look for groupons before you go somewhere, even in Mexico).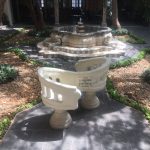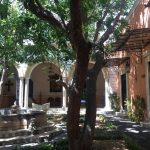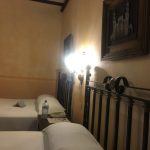 Youtube video: